Product Details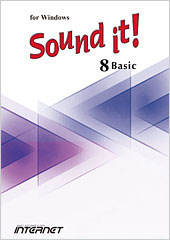 Download Version
USD 69.00 (include tax)
Sound it! 8 Basic for Windows
A multifunctional and versatile audio editing, mastering and processing software.


Details
High-quality sound and ability of sound design, fully compatible to native 64bit operating systems, comes with versatile bundled effects, batch processing capability and more, giving you the ability to answer to any sound engineers or audiophiles' demands.
Requirements
OS
Windows 7 / 8.1 / 10 (32/64bit). Full compatible to native 64bit
CPU
Intel processors support SSE2 or compatible processors
* Intel Core i Processor Families are recommended.
RAM
1GB or more RAM (Windows7), 2GB or more RAM (Windows 8.1/10)
DISPLAY RESOLUTION
1024x768 or more with 32bit color
HDD/SDD
300MB free space for the installation
Hardware
OS compatible audio interface hardware
Optical Drive for CD burning
OS compatible DVD-R/RW or CD-R/RW optical drive that supports CD burning and Windows Media Player 11 or later. (recommended Windows Media Player 12 or later)
Internet Access
Use for products download, registration, activation and update.