Product Details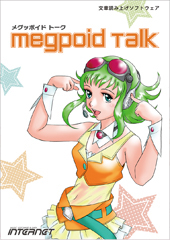 Download Version
USD 102.00 (include tax)
Megpoid Talk
Just enter the text or sentence, and hear Megpoid (Voice Source : Megumi Nakajima) read out loud! It really is that simple, and can be used for any of your purposes.
*Please note that this software is only compatible with Japanese OS and Install guide, Users guide, License Agreement and other guidelines are written in Japanese.




Details
Megpoid Talk is the text to speech software based on voice of Megumi Nakajima who is a Japanese singer and voice actress.
Just enter the text or sentence, and hear Megumi Nakajima read out loud. FineSpeech Ver 3, the composition engine by Animo Limited, is used in Megpoid Talk.
You can experience high-quality corpus base speech synthesis. Intonation adjustment is not only with easy mouse operation but also in time with the intonation extracted from audio file and microphone signal. Also speech speed and pronunciation time are editable. You can output the complete speech as audio file. Megpoid Talk is quite versatile and can work for many different purposes, the narration in a video, the voice message in an answering machine, as the proofreader, the speaker of an audio book and many others.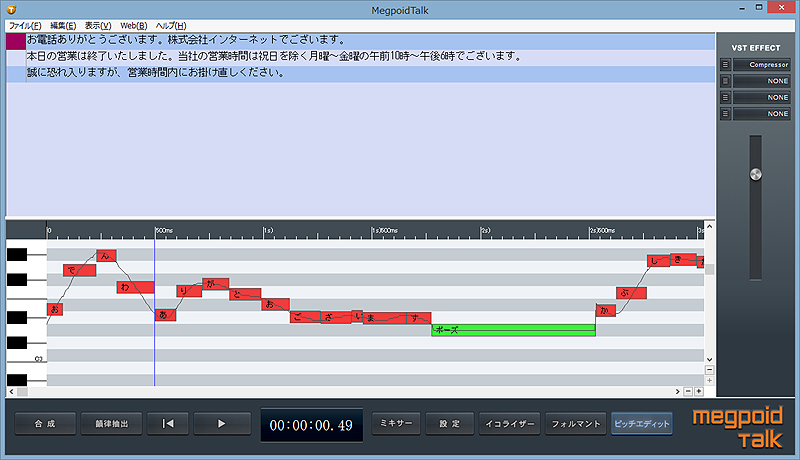 Voice Source
Megumi Nakajima
Megumi Nakajima (born March 5th, 1989) is a Japanese singer and voice actress. In 2007, she auditioned to the Victor Entertainment sanctioned "Victor Vocal & Voice Audition" and was chosen to voice Ranka Lee in Macross Frontier. After releasing "Seikanhikou" as Ranka Lee's character, she released her songs as Megumi Nakajima. Since her fi rst album "I love you" attracted many people, her fan club was established on June 2011. She won the award for Best Musical Performance in the third Seiyu Awards.
Requirements
OS
Windows 7 (64bit/32bit) or later
*Japanese OS
CPU
Celeron Dual Core 2.1GHz
RAM
Windows 10:2GB, Others:1 GB
Hard Disk Space
400MB