Product Details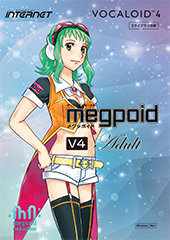 Download Version
USD 98.00 (include tax)
VOCALOID4 Library Megpoid V4 Adult
Megpoid V4 Adult is the virtual vocal library based on "adult and deep" voice of Megumi Nakajima who is a Japanese singer and voice actress.







Details
Megpoid V4 Adult includes two libraries, "Megpoid V4 MellowAdult" and "Megpoid V4 Adult". Megpoid V4 MellowAdult is newly created for VOCALOID4. Megpoid V4 Adult is improved from "VOCALOID3 Megpoid Adult".
"Growl" and "Cross Synthesisis", big features of VOCALOID4 are compatible with these libraries. Growl makes it possible to sing as if growling and Cross Synthesisis can smoothly blend 2 different Voice Banks.
*This is a Voice Bank product and cannot be used stand-alone; separate editor software such as the VOCALOID4 Editor (Windows only) or VOCALOID4 Editor for Cubase is required.
Requirements
(*) This only includes the Library product. Editor and DAW software requires additional disk space.
Specifications
| | |
| --- | --- |
| Recommended Range | F2 - A4 |
| Recommended Tempo | 60 - 175 bpm |