Product Details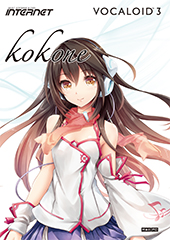 Download Version
USD 84.00 (include tax)
VOCALOID3 Library kokone
Straight-ahead female vocalist, her voices will echo through your head.





Details
VOCALOID3 kokone is the library produced especially for VOCLOID3. It has a good range from bass to high.
VOCALOID3 kokone sings expressively to you with dynamic bass, transparent mixed voice, and sustainable high like a falsetto.
*This is a Voice Bank product and cannot be used stand-alone; separate editor software such as the VOCALOID5, VOCALOID3/4 Editor (Windows only) or VOCALOID4 Editor for Cubase is required.
Requirements
(*) This only includes the Library product. Editor and DAW software requires additional disk space.
Specifications
| | |
| --- | --- |
| Recommended Range | D2 - D5 |
| Recommended Tempo | 60 - 175 bpm |