Product Details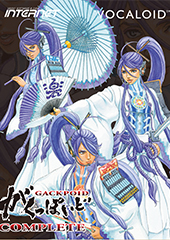 Download Version
USD 200.00 (include tax)
VOCALOID4 Library Gackpoid Complete
Gackpoid Complete is the complete set of three virtual vocal libraries "Native", "Power" and "Whisper" based on voice of "GACKT", a major artist in Japan.







Details
VOCALOID4 Gackpoid is the first library of Japanese male voice in all VOCALOID4.
Working on readjusting the database bring about a dramatic improvement in clear and smoothly connected words. You can enjoy the higher quality voice synthesis than before.
"Growl", "Cross Synthesisis" and "Pitch Snap Mode", big features of VOCALOID4 are compatible with these libraries. Growl makes it possible to sing as if growling,Pitch Snap Mode easily generates a robot-like voice, and Cross Synthesisis can smoothly blend 2 different Voice Banks.
*This is a Voice Bank product and cannot be used stand-alone; separate editor software such as the VOCALOID4 Editor (Windows only) or VOCALOID4 Editor for Cubase is required.
Requirements
OS
Windows 7 (64bit/32bit) or later
Mac OS X 10.8 or later
CPU
Intel Dual Core CPU
RAM
2GB
Hard Disk Space
5GB(*)
Others
(*) This only includes the Library product. Editor and DAW software requires additional disk space.
Specifications
| | |
| --- | --- |
| Recommended Range | NATIVE: A1 - C4, POWER: A1 - C4, WHISPER: A1 - G3 |
| Recommended Tempo | 60 - 150 bpm |